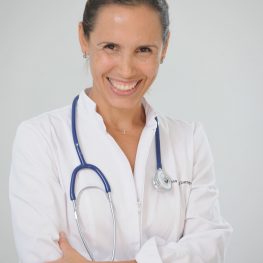 Prof. Dr. Ana Baroni Luengo
MASTER DIRECTOR, MASTER PROFESSOR
Expert in Longevity and Precision Medicine
Dr. Ana Baroni graduated in both Medicine and Journalism. Her Doctorate in Medicine was on Molecular Diagnosis, with unanimously "Cum Laude" qualification. She is Committee Member of the American Board of Clinical Nutrition and Board Certified by the American Academy of Anti-Aging Medicine (A4M). She received an Advanced studies diploma in Tissues Regeneration, and 6 University Master´s degrees: in Genomic Medicine, in Antiaging and Regenerative Medicine, in Medical Evaluation, in Emergency Medicine, in Project Management, and in International Cooperation. She completed a postdoc in Family Medicine and a 4-year residency in Occupational Medicine
She is Director of the Chair "Longevity and Precision Medicine" from Efhre International University and professor in IL3 Master in Longevity of Barcelona University.
She is Accredited Doctorate Professor at the International University of La Rioja and ESIT ( School of Engineering and Technology) for both engineers and doctors, in subjects of e-Health, Big Data, Health Services Management, and Nutrigenomics. Co-founder of "Healthy Aging" and "Longevity Zone".
She is also an Expert Panel member of ANECA (National Agency for Quality Assessment and Academic Accreditation). She specialized in Functional Medicine both at the Academy of Functional Medicine and Genomics (Washington), and at Functional Medicine University (South Carolina), and practices Precision Medicine. She both enhances healthy aging of people and treats patients with rare diseases, advanced cancer, ALS, autism…  She is developing an app that will provide Precision Medicine access worldwide. She cooperates with the design of genomic tests. Since 2015 she is involved in clinical trials and research related to stem cell therapies. She speaks Spanish, English and German.
Ana is in love with the father of her 6 kids, and she lives thankful and happy! ; )
Courses