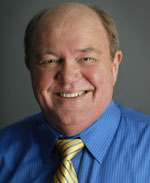 Prof. Dr. Charles Gant
MASTER DIRECTOR, MASTER PROFESSOR
Expert in Integrative, Complementary/Alternative and Functional Medicine
Dr. Gant has practiced Integrative, Complementary/Alternative and Functional Medicine for over four decades. As genomic test panels become ever more available and affordable, Dr. Gant regularly evaluates many common, important and modifiable single nucleotide polymorphisms and genomic panels in almost all patients.  Dr. Gant received his B.S. degree in chemistry from Hampden-Sydney College and his medical degree from the University of Virginia Medical School. He pioneered many of the nutritional and detoxification treatments for the treatment of substance use and other mental disorders while serving as the medical director of Tully Hill Hospital, as a medical consultant at Syracuse Behavioral Healthcare and as a psychiatric consultant at numerous substance abuse and mental health clinics throughout Central New York. These protocols are currently being duplicated around the country by many healthcare practitioners and they promise to improve treatment outcomes and bring authentic healing to those suffering from all types of mental disorders.
Dr. Gant currently practices at National Integrated Health Associates and the International Precision Medicine Associates. He has authored numerous publications, including 'ADHD Complementary and Alternative Medicine Solutions', and 'End Your Addiction Now' which is available in bookstores.
Dr. Gant provides the latest, cutting-edge, diagnostic, functional and genomics-based, laboratory testing for his patients to define the root causes of symptoms which can then be targeted to optimize brain health and general wellness. This science-based approach can reverse the biochemical roots of aggression, addiction, and mental disorders, as well as many medical disorders, which brings authentic healing and recovery.
May 2013 – Present: Instructor of Functional Medicine and Genomics at Huntington College of Health Sciences
September 2009 – 2017: Chief Medical Officer at the International Academy of Precision Medicine. Weekly webinar-based training for healthcare professionals in functional medicine and genomics and other aspects of Precision Medicine treatment of chronic mental and medical disorders
August 2009: Release of 2nd Edition of End Your Addiction Now (Square One Publications)
April 2009 – Present: Opened Private Practice in Integrative/Functional Medicine, Genomics and Mindfulness-based Psychotherapies at the National Integrated Health Associates2 (www.NIHADC.com )
March 2009: Licensed to Practice Medicine (MD) in Washinton, DC (lic. # MD037900) http://app.hpla.doh.dc.gov/weblookup/SearchResults.aspx October 2007-August 2009 National Lecture Series, One Day Seminars (3-6 cities/month) – Drug-Free Treatments for Mental Health Disorders (www.PESI.com). Lecture series on integrative medicine and psychotherapeutic techniques to assist patients in minimizing dependence on psychotropic medication. January 2006 Authored the book: "ADHD Therapy." Explains how mindfulness-based psychotherapies can manage pain syndromes and minimize the need for pain medication.
Courses